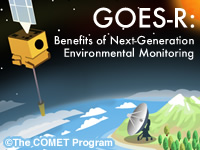 Take the quiz?

Share this resource:
After completing the module the learner will be able to:
List several environmental hazards and phenomena where GOES-R satellite observations are expected to benefit users.
Describe some of the key anticipated benefits as they relate to GOES-R monitoring of those same environmental hazards and phenomena.
Describe the main GOES-R mission objectives.
State the fundamental difference between geostationary and polar-orbiting satellites and briefly describe the advantages of each.
List the major instruments (or instrument suites) on board the GOES-R satellites and briefly describe what each is designed to provide.
Describe some of the GOES-R services and their significance to the overall success of the GOES-R mission.
Describe the concept of a global observing system and the role of environmental satellites.