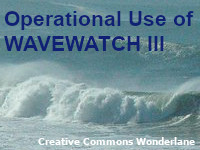 Languages: English
Publish Date: 2008-11-05
Skill Level:

2

Completion Time: 1.25 - 1.50 h
Includes Audio: yes
Required Plugins: Flash
Overall Rating:

(74 ratings)

Read or add reviews

Take the quiz?

Share this resource:
In this webcast, Dr. Hendrik Tolman (NOAA Marine Analysis Branch) discusses the operational use of NOAA WAVEWATCH III. The NOAA WAVEWATCH III is a forecast system that predicts wind-generated ocean waves. Dr. Tolman discusses what WAVEWATCH III can and cannot predict along with the model physics, numerics, and forecast products. Numerous examples illustrate the practical effects of several recent model improvements including high-resolution hurricane winds, surf zone physics, wave partitioning, and use of a multi-grid mosaic. The webcast concludes with a discussion of future improvements planned for the wave forecast system.