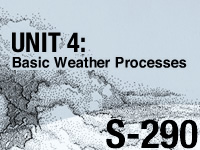 Take the quiz?

Share this resource:
The "S-290 Unit 4: Basic Weather Processes" distance learning module summarizes atmospheric structure and composition, the Sun-Earth radiation budget, weather elements used to describe the atmosphere, the greenhouse effect, and temperature lags observed both daily and seasonally. The content introduces the concepts of pressure, atmospheric heating, and temperature and provides a basis for understanding weather topics that are explored in more detail in other modules of the
Intermediate Wildland Fire Behavior Course
.