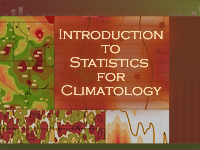 Take the quiz?

Share this resource:
Define mean, mode, frequency of occurrence and time, extreme value, range, standard deviation, and data anomalies.
Using climate data, calculate each statistical parameter (other than standard deviation).
Understand which statistical parameters best describe various climate variables.
Describe the impacts of data quality on climatology products.