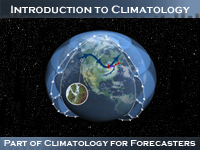 Take the quiz?

Share this resource:
Define the terms climate and climatology and differentiate them from weather.
Describe the key drivers that determine climate regimes at the global-, synoptic-, and meso-scale levels.
Describe how climate zones are classified and how the classifications can be used to relate similar regimes.
Describe the general uses and limitations of climatological data. Identify climatologic data sources.