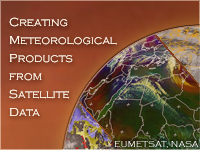 Take the quiz?

Share this resource:
After completing this Webcast, learners will be able to:
List the benefits of using satellite products.
For the three levels of products (simple, quantitative, and "cutting edge"), define the type of product, describe its advantages and, on a very basic level, some of the production techniques and strategies, and identify several products generated by it.
Describe the purpose and function of cloud mask products.
Describe some of the sources of error in the product generation process.