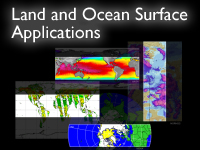 Publish Date: 2008-05-23
Retired Date: 2015-01-30
Overall Rating:

(0 ratings)

Read or add reviews


This module has been retired and is no longer available on MetEd.


This module introduces the concepts and principles basic to retrieving important land and ocean surface properties using microwave remote sensing observations from polar-orbiting satellites. Section one reviews the advantages of microwave remote sensing from polar-orbiting platforms and briefly highlights some of the unique spectral characteristics that allow for differentiation between various surface types and properties. Subsequent sections present a more in-depth look at the derivation and application of microwave products that quantify four different land and ocean surface properties and their characteristics, including snow cover and water equivalent, sea ice, surface wetness and soil moisture, and sea surface temperature. The module reviews both past and current satellite missions and also discusses the future NPOESS constellation that is expected to include a passive microwave sensing capability beginning with the second NPOESS satellite. This module takes about 120 minutes to complete.