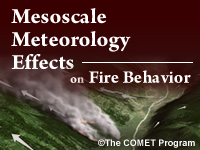 Take the quiz?

Share this resource:
The "Mesoscale Meteorology Effects on Fire Behavior" module reviews the development of thermally forced winds in complex terrain and explores how these winds combine with the effects of terrain to influence fire spread. Three-dimensional conceptual animations illustrate these effects through a 24-hr period, as members of the team working this theoretical fire describe different aspects of weather, fire behavior, and operational fire fighting decisions at specific times during this day. This module is part of the
Advanced Fire Weather Forecasters Course
.