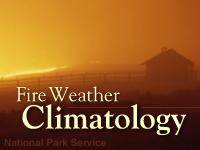 Take the quiz?

Share this resource:
The "Fire Weather Climatology" module provides a comprehensive look at fire regions across the United States and characteristics of typical fire seasons in each region. In addition, critical fire weather patterns are described in terms of their development, duration and impact on fire weather. Numerous case studies provide examples and opportunities to practice recognizing these critical patterns and how they can affect fire ignition and spread. This module is part of the
Advanced Fire Weather Forecasters Course
.