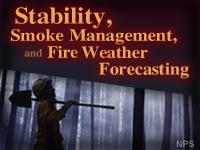 Take the quiz?

Share this resource:
The "Stability, Smoke Management, and Fire Weather Forecasting" module examines the effects of atmospheric stability on fire behavior and the transport of smoke, as well as fire and smoke management operations. Topics covered include the impacts of the formation, persistence, and dissipation of inversions and how best to relate forecast information on these phases to customers. Calculation and application of the Haines Index is applied through the highly interactive Haines Game. In addition, the influence of stability on the transport and dispersion of fire related smoke is covered in the context of smoke management programs and the critical information provided by fire weather forecasters. This web module is part of the
Advanced Fire Weather Forecasters Course
.