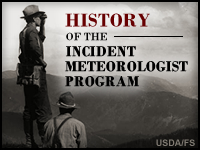 Take the quiz?

Share this resource:
The "History of the Incident Meteorologist Program" describes the evolution of fire weather support by National Weather Service meteorologists, including the more recent expansion to other hazardous incidents and significant national events. This webcast also reviews the evolution of the Air-Transportable Meteorological Unit (ATMU) into today's AMRS/FxNet system used by Incident Meteorologists today. This short webcast is part of the
Advanced Fire Weather Forecasters Course
.