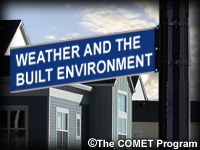 Take the quiz?

Share this resource:
This short course provides broadcast meteorologists, educators, and the public with an overview of the evolution of our modern urban environment with a focus on impacts on the urban watershed, air quality, and climate. This course complements the course Watersheds: Connecting Weather to the Environment and both are part of the Earth Gauge™ environmental curriculum for weathercasters and educators. This curriculum is being developed by the National Environmental Education Foundation (NEEF). [See
http://www.earthgauge.net/wp/
] Unit 1, Where We Live, takes a look at past and current U.S. growth patterns and the way our urban areas have evolved from compact population centers to automobile-dependent sprawl. Unit 2, Impacts on the Watershed, explores how the built environment affects the water that moves through an urban watershed. Unit 3, Impacts on the Atmosphere, highlights the way our urban landscape and industrial activities impact the air we breathe and the local climate. Each unit includes information on ways to reduce our impact on our water and air with ideas ranging from simple changes in our commuting and housekeeping habits to changes in how we build houses and roads.