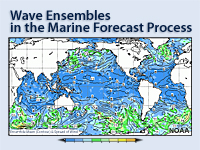 Languages: English
Publish Date: 2007-12-03
Skill Level:

2

Completion Time: .75 - 1.00 h
Includes Audio: yes
Required Plugins: Flash
Overall Rating:

(21 ratings)

Read or add reviews

Take the quiz?

Share this resource:
The NCEP Marine Modeling and Analysis Branch (MMAB) Ensemble Global Ocean Wave Forecast System (EGOWaFS) provides five-day forecasts of global winds, wind wave and swell conditions in probabilistic terms. This product became available early in 2007 both through an NCEP non-operational web page and, for raw data, through FTP for use by marine forecasters at NWS WFOs and other locations. The data from the EGOWaFS can be used in a number of ways, including:* As input to probabilistic marine forecasts for wind waves and swell* As input to a local wave ensemble, such as Simulated Waves Nearshore (SWAN)* As input to develop probabilistic forecasts for rip current developmentThis webcast has been developed to introduce the EGOWaFS to the marine forecasting community. Topics discussed include:
The unique basis for ensemble prediction of ocean waves
Graphics of EGOWaFS product output and their interpretation
Case examples showing examples of EGOWaFS, including:

Potential for EGOWaFS forecast bias resulting from systematic errors in wind forcing,
Use of EGOWaFS data to provide boundary conditions for local near-shore wave models, and
Application of EGOWaFS data to create a probabilistic forecast for the occurrence of rip currents.