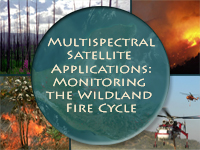 Publish Date: 2007-11-14
Retired Date: 2013-06-11
Overall Rating:

(1 rating)

Read or add reviews


This module has been retired and is no longer available on MetEd.


* Demonstrate the advantages and limitations of using multi-sensor multispectral analysis for monitoring the fire cycle. * Describe some of the remote sensing products and systems used for detecting and monitoring the wildland fire cycle. For each product, identify its capabilities, limitations, and applications. * Identify the common thermal emission regions used to detect fires in both polar-orbiting and geostationary satellites. * Identify the capabilities and limitations of geostationary vs. polar-orbiting satellites, shortwave vs. longwave imagery, and true vs. false color products in detecting and monitoring the fire cycle. * Identify the essential steps in automated and semi-automated smoke forecasting. * Identify the capabilities of the upcoming NPOESS VIIRS sensor with regard to the fire cycle.