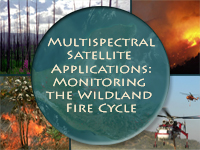 Publish Date: 2007-11-14
Retired Date: 2013-06-11
Overall Rating:

(1 rating)

Read or add reviews


This module has been retired and is no longer available on MetEd.


This module describes current and future satellite instruments and products used for monitoring the fire cycle, with an emphasis on polar-orbiting satellites. Product information is presented in the context of the fire cycle: from assessing the pre- and post-fire environment to detecting and monitoring active fires, smoke, and aerosols. Product information is also consolidated in the Fire Product Suite, available in the module and as a PDF file. The module concludes with an interactive fire case study, supplemented with observations from a National Weather Service forecaster who experienced the fire. The module is intended for a wide range of users involved with wildfire detection and monitoring, including land use managers, hydrologists, weather forecasters, and researchers.