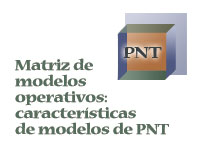 Publish Date: 2007-10-19
Retired Date: 2012-11-26
Overall Rating:

(0 ratings)

Read or add reviews


This module has been retired and is no longer available on MetEd.


Este módulo, que forma parte de la Serie de Formación Profesional (Professional Development Series, PDS) de PNT, contiene información sobre las características y la arquitectura de los modelos operativos de uso común, sus principales puntos fuertes y puntos débiles para las operaciones y herramientas de evaluación del modelo. La información se actualiza siempre que se realicen cambios significativos en el modelo. El módulo está vinculado al módulo Impact of Model Numerics on Weather Depiction (que también integra la Serie de Formación Profesional de PNT), el cual brinda información de fondo acerca de los componentes del modelo. El experto en la materia para este módulo es el Dr. Ralph Petersen del Centro de Modelado Ambiental de los Centros Nacionales de Predicción Ambiental (National Centers for Environmental Prediction/Environmental Modeling Center, NCEP/EMC).