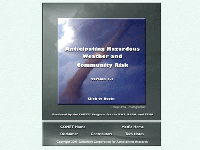 NOTICE: THIS MODULE HAS BEEN REPLACED BY Anticipating Hazardous Weather and Community Risk, 2nd Edition AVAILABLE HERE.
Hazardous weather affects us all. To help local emergency managers cope with weather hazards they may face, the Federal Emergency Management Agency (FEMA) and the National Oceanic and Atmospheric Administration's (NOAA) National Weather Service (NWS) offer a course titled Hazardous Weather and Flooding Preparedness. However, many people who make weather-related decisions are unable to attend this 2-3 day course.
The purpose of this Web-based course, Anticipating Hazardous Weather and Community Risk, is to provide background on weather and weather hazards for emergency managers and other decision makers. This course is intended to complement on-site courses offered by FEMA and NWS, so that they can focus on local hazards and community risk factors.
This course covers: • Weather: How and why it forms • Hazardous weather: Fact sheets on different phenomena • Forecasting weather: The forecast process and products issued by the NWS • Warning Partnership: How the NWS and emergency managers generate and communicate warnings • Desktop Exercise: An opportunity to apply what you have learned in a flash flood scenario
FEMA Independent Study credit is available for those who complete the course and pass the exam. The subject matter experts for Anticipating Hazardous Weather and Community Risk are Randall C. Duncan, CEM - Sedgwick County (KS) Emergency Management, Bob Glancy - NWS, Bob Goldhammer - Polk County (IA) Emergency Management, Curt Nellis - County of Shenandoah (VA) Department of Fire and Rescue, John Ogren - NWS, and Bruce Sterling - Portsmouth (VA) Emergency Management.
This module is course number IS-271 in FEMA's Emergency Management Institute's Independent Study catalog.