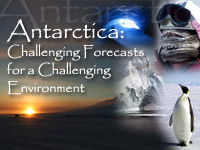 Languages: English
Publish Date: 2007-08-14
Skill Level:

1

Completion Time: 1.25 - 1.50 h
Includes Audio: yes
Required Plugins: Flash
Topics:
Other
Overall Rating:

(478 ratings)

Read or add reviews

Take the quiz?

Share this resource:
1. Give the general audience a basic understanding of the uniqueness of Antarctica. 2. Give prospective Antarctic forecasters or meteorology students an understanding of the challenges in forecasting weather in Antarctica. 3. Provide students an overview of the tools used to monitor and forecast Antarctica's weather. 4. Describe the connection of Antarctica with the rest of the earth's climate system and the research that seeks to discover how it influences that system.