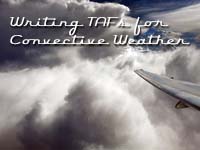 Publish Date: 2007-07-31
Retired Date: 2014-01-28
Overall Rating:

(1 rating)

Read or add reviews
"Writing TAFs for Convective Weather" uses a case to show how special tools and techniques can be used to produce a Practically Perfect TAF (PPTAF) for convection. The unit examines how to create TAFs for different types of convection and how to effectively communicate logic and uncertainty in an aviation forecast discussion (AvnFD) or by other means. It also addresses maintaining an effective TAF weather watch and updating the TAF proactively.