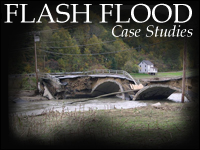 Take the quiz?

Share this resource:
This module takes the learner through seven case studies of flash flood events that occurred in the conterminous U.S. between 2003 and 2006. The cases covered include:
30-31 August 2003: Chase & Lyon Counties, KS
16-17 September 2004: Macon County, NC
31 July 2006: Santa Catalina Mountains near Tucson, AZ
25 December 2003: Fire burn area near San Bernardino, CA
30 August 2004: Urban flash flood in Richmond, VA
19-20 August 2003: Urban flash flood in Las Vegas, NV
9 October 2005: Cheshire County, NH
This module assists the learner in applying the concepts covered in the foundation topics of the Basic Hydrologic Sciences course. Some of the specific topics pertinent to these cases are the physical characteristics that make a basin prone to flash floods, basin response to precipitation, flash flood guidance (FFG), the relationship between wildfire and flash floods, and the relationship between urban development and flash floods. Related topics brought out in the cases include radar quantitative precipitation estimation (QPE), the National Weather Service Flash Flood Monitoring and Prediction (NWS FFMP) products, debris flows, impounded water, and interagency communications. The core foundation topics are recommended prerequisite materials since this module assumes some pre-existing knowledge of hydrologic principles. In particular, the Runoff Processes and Flash Flood Processes modules contain material directly related to these cases.