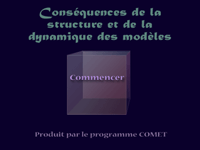 Publish Date: 2007-06-01
Last Updated On: 2013-01-29
Retired Date: 2013-01-29
Overall Rating:

(0 ratings)

Read or add reviews


This module has been retired and is no longer available on MetEd.


Impact of Model Structure & Dynamics, part of the Numerical Weather Prediction Professional Development Series and the NWP Distance Learning Course, provides operationally significant information about model type, horizontal resolution, vertical coordinate systems, vertical resolution, and domain and boundary conditions, with an emphasis on how each aspect can affect a model's ability to depict and forecast weather. The subject matter expert for this module is Dr. Ralph Petersen of the National Centers for Environmental Prediction, Environmental Modeling Center (NCEP/EMC).