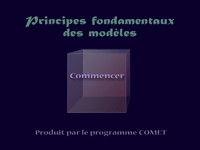 Publish Date: 2007-06-01
Retired Date: 2012-07-03
Overall Rating:

(0 ratings)

Read or add reviews
Model Fundamentals, part of the Numerical Weather Prediction Professional Development Series and the NWP Distance Learning Course, describes the components of an NWP model and how they fit into the forecast development process. It also explores why parameterization of many physical processes is necessary in NWP models. The module covers background concepts and terminology necessary for learning from the other modules in this series on NWP. The subject matter expert for this module is Dr. Ralph Petersen of the National Centers for Environmental Prediction, Environmental Modeling Center (NCEP/EMC).