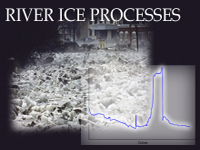 Take the quiz?

Share this resource:
Describe factors leading to flash floods due to ice jams.
Use standard language to describe ice jams.
Describe basic ice processes including: formation, growth, breakup, and transport.
Explain why ice jams form.
Describe methods and techniques used in prediction and forecasting of ice jams.
Describe current modeling methods and tools used in ice jam prediction.
Describe current research and development projects underway at the Cold Regions
Research and Engineering Laboratory (CRREL) of the U.S. Army Corps of Engineers.
Describe other tools and resources available through CRREL.