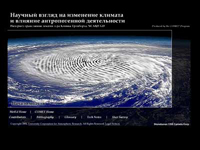 Publish Date: 2006-10-26
Retired Date: 2014-09-03
Overall Rating:

(1 rating)

Read or add reviews


This module has been retired and is no longer available on MetEd.


This is the Russian translation of "The Science of Global Climate Change and Human Influences" a Webcast by Dr. Kevin Trenberth of NCAR's Climate and Global Dynamics division. The presentation includes evidence that the atmosphere is changing, discussions on global energy flows and human factors contributing to change, and concludes with predictions for the future.