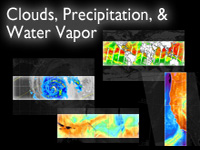 Publish Date: 2006-10-06
Retired Date: 2019-11-22
Overall Rating:

(210 ratings)

Read or add reviews


This module has been retired and is no longer available on MetEd.


This module provides an introduction to polar-orbiting-satellite-based microwave remote sensing products that depict moisture and precipitation in the atmosphere. The module begins with definitions and descriptions of total precipitable water and cloud liquid water products, contrasting each with more familiar infrared water vapor and window channel products. This is followed by an overview of microwave precipitation estimation and a discussion of how polar-satellite products compare with those from geostationary satellites and ground-based radar. A series of case examples highlights potential weather forecasting applications for total precipitable water and precipitation products. The module also includes an introduction to the Global Precipitation Monitoring Mission to which future NPOESS satellites will be an important contributor. This module takes about 75 minutes to complete.