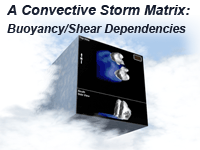 Take the quiz?

Share this resource:
In order to help forecasters build a strategy for anticipating convective storm structures, their evolution, and the potential for severe weather,
A Convective Storm Matrix
provides learners the opportunity for extensive exploration of the relationship between a storm's environment and its structure. The matrix is composed of 54 four-dimensional numerical simulations based on the interactions of 16 different hodographs and 4 thermodynamic profiles. By comparing animated displays of these simulations, learners are able to discern the influences of varying buoyancy and vertical wind shear profiles on storm structure and evolution. A series of questions guides the exploration and helps to reveal key storm/environment relationships evident in the matrix. A synopsis of the physical processes that control storm structure, as well as the current conceptual models of key convective storms types, is included for reference. Subject matter expects for
A Convective Storm Matrix: Buoyancy/Shear Dependencies
include Mr. Steve Keighton, Mr. Ed Szoke, and Dr. Morris Weisman.
Note:
This module was originally published on CD-ROM in March 1996 (v1.1) and re-released in 2001 as v1.3 for Microsoft Windows users only. CD-ROM version 1.3 works fairly well with Windows 98/ME/NT4/2000 but has reported to be problematic with Windows XP. Users of version 1.1 should obtain the patch located at
http://www.comet.ucar.edu/help/ModuleSupport/matrix_problem.htm
or use the new, Web-based module.