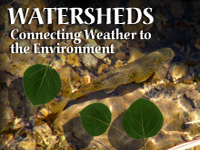 Take the quiz?

Share this resource:
Know how to describe a watershed and locate the watersheds for your viewing region.
Be able to find the hydrologic address of a watershed and describe how watersheds are interconnected into a river system.
Be able to relate the concept of a watershed to urban settings.
Know the distribution of water within a watershed and how to find water sources for a population center in your viewing area.
Describe how sources of non-point pollution, especially in urban areas, impact water quality.
Know how human-engineered changes in the watershed affect the location and severity of flooding following heavy precipitation events.
Be able to relate the impact of drought on a watershed and watershed system.