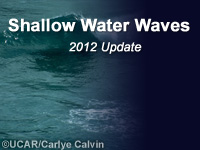 Take the quiz?

Share this resource:
September, 2017: HTML and media assets in this lesson and the Shallow Water Waves calculator have been updated for current browsers and mobile devices.
July, 2012: This module has been updated to provide greater flexibility in navigation and linking to specific content. In addition, minor changes have been made to improve the clarity of the content and correct inconsistencies. However, these changes do not affect the overall substance of the material taught.