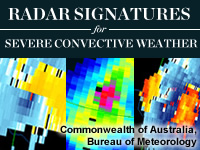 Take the quiz?

Share this resource:
Identify signatures associated with potentially severe convection.
Describe appropriate techniques for identifying particular radar signatures within a volume scan.
Use knowledge of conceptual models of convective storm structures to determine the mode of convection indicated by particular radar signatures.
Given a convective storm type, determine the location and timing of potential storm-induced damage.
Estimate the likelihood that a particular radar signature indicates the presence of severe convection.