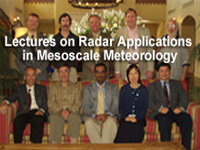 No quiz for this resource

Share this resource:
This website provides access to the streaming presentations and PowerPoint source files for the 11 lectures delivered during the AMS Educational Forum "A Primer on Radar Analysis Techniques Used in Mesoscale Meteorology" held on 23 October 2005 in Albuquerque, NM. The presentations discuss how many advanced techniques for the analysis of meteorological radar data can be used to improve understanding of the structure, dynamics, and evolution of mesoscale circulations. The Forum was organized into four sections: 1) Microphysical Characterization of Precipitation Systems Using Dual-Polarization Radar Measurements, 2) Single Doppler Retrieval and Assimilation Techniques for Use in Mesoscale Models, 3) Analysis of Mesoscale Processes Using Wind Profiling Radars and Velocity Azimuth Display and 4) Airborne Doppler Radar Analysis of Tropical and Extratropical Mesoscale Systems.