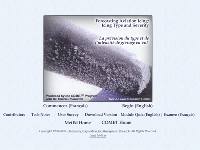 No quiz for this resource

Share this resource:
This is the French version of this module. This module discusses the current theories of atmospheric conditions associated with aircraft icing and applies the theories to the icing diagnosis and forecast process. The contribution of liquid water content, temperature, and droplet size parameters to icing are examined. Identification of icing type, icing severity, and the hazards associated with icing features are presented. Tools to help diagnose atmospheric processes that may be contributing to icing and the special case of supercooled large drop (SLD) icing are examined and applied in short exercises. The use of graphics, animations, and interactive exercises in Forecasting Aviation Icing: Icing Type and Severity helps the forecaster to gain an understanding of icing processes, to identify icing hazards, and to apply diagnosis and forecast tools as aids to evaluate and anticipate potential aircraft icing threats. The subject matter expert for this module is Dr. Marcia Politovich of NCAR/Research Applications Program. This module is also available in English.