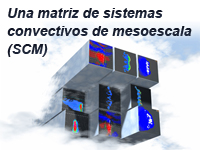 Publish Date: 2014-04-11
Last Updated On: 2016-04-20
Skill Level:

2

Completion Time: 4.00 - 5.00 h
Includes Audio: no
Required Plugins: none
Topics:
Convective Weather
Overall Rating:

(2 ratings)

Read or add reviews

Take the quiz?

Share this resource:
Este módulo incluye una matriz interactiva con simulaciones numéricas que ilustran los procesos físicos que controlan la evolución de los sistemas convectivos de mesoescala (SCM), así como un archivo completo del módulo web sobre las líneas de turbonada y los ecos en forma de arco titulado Mesoscale Convective Systems: Squall Lines and Bow Echoes.
La nueva matriz de SCM, que fue desarrollada después del módulo en CD titulado Una matriz de tormentas convectivas, brinda al estudiante la oportunidad de explorar a fondo las relaciones entre el entorno de un sistema convectivo de mesoescala y su estructura. La matriz se compone de 21 simulaciones numéricas en cuatro dimensiones basadas en la interacción entre 10 hodógrafas diferentes y un único perfil termodinámico. La comparación de una serie de visualizaciones animadas de estas simulaciones permite discernir la influencia de la cizalladura vertical del viento y la fuerza de Coriolis en la estructura y evolución del sistema. Una serie de preguntas guían la exploración y ayudan a revelar las relaciones clave entre la tormenta y su entorno que se ponen en evidencia en la matriz.
El experto en la materia para este módulo es el Dr. Morris Weisman. Los expertos en la materia para el módulo web Mesoscale Convective Systems: Squall Lines and Bow Echoes son el Dr. Morris Weisman y el Sr. Ron Przybylinski.