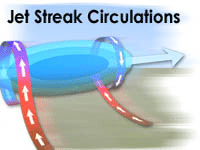 Languages: English
Publish Date: 2005-04-25
Skill Level:

3

Completion Time: .75 - 1.00 h
Includes Audio: yes
Required Plugins: none
Overall Rating:

(186 ratings)

Read or add reviews

Take the quiz?

Share this resource:
This Webcast is based on a presentation given by Dr. James T. Moore of Saint Louis University at the 5th Annual MSC/COMET Winter Weather Workshop on 30 November 2004 in Boulder, Colorado. Dr. Moore reviews many aspects of jet streak dynamics including convergence/divergence, ageostrophic winds, propagation, and coupled jets.