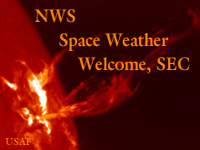 No quiz for this resource

Share this resource:
This video presentation welcomes the Space Weather Prediction Center, formerly known as the Space Environment Center or SEC to the National Weather Service (NWS) as an operational entity of the National Centers for Environmental Prediction (NCEP) family. Describing the ways in which space weather affects global communications and power resources, it demonstrates the importance of space weather forecasting as a part of the NWS family of services. With the inclusion of SWPC, the NWS now provides environmental understanding from the sun to the sea.