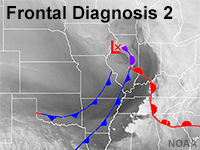 No quiz for this resource

Share this resource:
In this lesson, we address the characteristics of anabatic cold fronts, then move into analysis of those characteristics. In the analysis activity, you are asked to diagnose the different types of fronts that appear and identify the main characteristics of anabatic and katabatic fronts. The lesson concludes with identification and analysis of dry conveyor belt pulses.
This is the second lesson in a two part series that addresses three different types of cold fronts and how to diagnose them using satellite imagery.