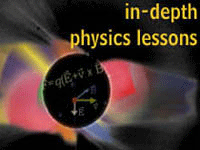 Languages: English
Publish Date: 2004-12-28
Skill Level:

3

Completion Time: 1.50 - 2.00 h
Includes Audio: yes
Required Plugins: Flash
Topics:
Space Weather
Overall Rating:

(0 ratings)

Read or add reviews

No quiz for this resource

Share this resource:
This collection of four condensed physics lessons is offered as a companion to our Physics of the Aurora: Earth Systems learning module, and has been developed especially for use by university physics educators. The lesson topics are Charged Particle Motions, Magnetic Force, the Frozen-field Theorem, and Static Atmospheres. Each short, self-contained lesson can be accessed independently and includes interactive formula derivations, exercises, and open-ended questions suitable for classroom discussion or out-of-class assignments.