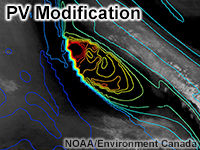 No quiz for this resource

Share this resource:
Identify the type of mismatch (spatial, temporal, magnitude, or existence) from potential vorticity overlays on water vapor imagery.
Based on the type of mismatch, adjust the PV surface and then the appropriate surface sensible weather variables based on process changes.
Know when to evaluate vertical cross sections of PV versus water vapor imagery.