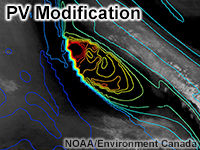 No quiz for this resource

Share this resource:
You know what PV is, yet aren't quite sure how to modify it to make a better forecast. In this short lesson, we will discuss how to modify the PV surface to match water vapour imagery and how those adjustments affect the surface sensible weather.
This is the fifth in a series of video lessons that introduces three different methods for modifying NWP output to add human value to forecasts.
Pre-requisite Knowledge: