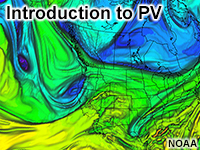 No quiz for this resource

Share this resource:
Define the different pieces of the PV equation.
Identify on a 1.5PVU height field what the likely contributors are to the PV height value.
Identify conveyor belts and vorticity centers from a 1.5PVU surface.
Identify the processes that are NOT included in the PV equation.