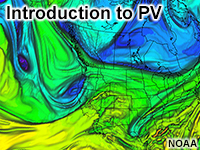 No quiz for this resource

Share this resource:
You've been introduced to Potential Vorticity (PV) as a concept or as a useful tool for NWP assessment, but what is PV really? We'll dive into PV in this lesson and attempt to answer some of the more common questions about PV as a product.
This is the fourth in a series of video lessons that introduces three different methods for modifying NWP output to add human value to forecasts.
Pre-requisite Knowledge: