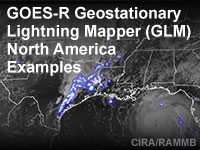 Publish Date: 2019-01-04
Skill Level:

1

Completion Time: .75 - 1.00 h
Includes Audio: no
Required Plugins: none
Overall Rating:

(135 ratings)

Read or add reviews

Take the quiz?

Share this resource:
The Geostationary Lightning Mapper (GLM) aboard the GOES-R series satellites provides continuous lightning detection from space, giving forecasters a unique tool to monitor developing thunderstorms. This 45 minute lesson introduces learners to the benefits of using GLM gridded products, primarily Flash Extent Density (FED). Learners will explore several North American convective events and use Flash Extent Density, in combination with other satellite and radar data, to diagnose convective initiation, storm intensification, and areal extent of lightning activity. Helpful hints to keep in mind while using GLM gridded products will be discussed. Finally, learners will get a look into future GLM gridded products and their advantages.