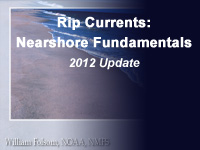 Languages: English
Publish Date: 2004-12-13
Last Updated On: 2012-02-14
Retired Date: 2020-07-21
Overall Rating:

(463 ratings)

Read or add reviews
This module provides insight into how nearshore circulation and wave dynamics are involved in rip current formation. Topics covered in this module include: nearshore terminology, circulation and waves, rip current characteristics, and rip current forcing mechanisms. This module is the second of three modules covering the forecasting of rip currents.