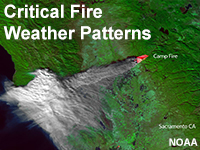 Languages: English
Publish Date: 2019-07-10
Skill Level:

2

Completion Time: .75 - 1.00 h
Includes Audio: no
Required Plugins: none
Overall Rating:

(165 ratings)

Read or add reviews

Take the quiz?

Share this resource:
Define a critical fire weather pattern and the elements that make a fire weather pattern critical
Describe critical fire weather patterns relevant to their geographic locations and seasonality
Recognize that critical weather patterns can affect an area even when individual weather elements don't meet watch, warning, or other fire criteria
Evaluate the potential for a critical fire situation based on the alignment of weather patterns at varying time and spatial scales in conjunction with drought or other factors within the environment
List best practices for describing and communicating critical fire weather situations and their potential magnitude and impacts
List forecast techniques and tools that can be used to identify the potential of critical fire weather patterns
List ways to share emerging critical fire weather patterns with others.
Use consistent language about critical fire weather patterns to proactively communicate with forecasters, partners and stakeholders including other offices, Regional/National Centers, IMETs, and Geographic Area Coordination Center Meteorologists.