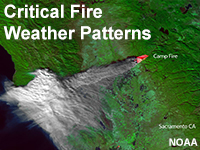 Languages: English
Publish Date: 2019-07-10
Skill Level:

2

Completion Time: .75 - 1.00 h
Includes Audio: no
Required Plugins: none
Overall Rating:

(177 ratings)

Read or add reviews

Take the quiz?

Share this resource:
In this lesson, learners will explore the alignment of meteorological and non-meteorological factors that create Critical Fire Weather Patterns. Several scenarios will step learners through the decision-making processes for identifying the presence of a Critical Fire Weather Pattern and communicating with partners using terminology familiar to them. The scenarios will also illustrate how coordination and consistency among meteorologists support the fire agencies and other partners.
The focus of the lesson is on recognizing that the presence of a Critical Fire Weather Pattern is more important than determining if a particular set of criteria, such as Red Flag Warning Criteria, will be met. The lesson will also introduce tools that help identify patterns and in turn help facilitate impact decision support services (IDSS).