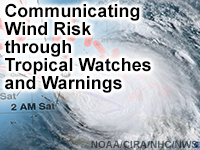 Take the quiz?

Share this resource:
This lesson provides an overview of the qualitative and quantitative aspects assessed by forecasters when issuing high wind and storm surge watches and warnings for tropical cyclone events. Learners will explore how understanding wind speed probability guidance and risk are critical in the issuance of watches and warnings for both coastal and inland areas. Also, learners will practice using probabilistic wind guidance in identifying the coastal and inland areas most likely to require watches and warnings. The lesson will discuss how the Hurricane Threats and Impacts graphic is used to communicate potential tropical cyclone threats and impacts, and how this information is related to the issuance of watches and warnings.
Internet Explorer on Windows does not support one element of the lesson, please use Microsoft Edge instead of Internet Explorer to view the lesson.