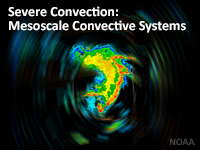 Take the quiz?

Share this resource:
September 2016: This lesson has been updated to conform to current HTML standards and brings the original content to a new, easier to navigate format. The title was changed, dropping the numeral from Severe Convection II.
July 2014: Due to its age, this lesson contains products generated from the Eta model, which is no longer in operational use. This primarily impacts the MCSs and NWP section. Additionally, while the information presented is largely still valid, it does not include new discoveries including MCSs initiated as elevated convection, not surface convection. Much of this work is covered in literature by Schumacher.