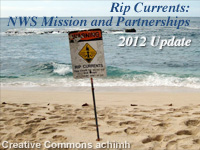 Languages: English
Publish Date: 2004-08-16
Last Updated On: 2012-05-08
Retired Date: 2020-07-21
Overall Rating:

(117 ratings)

Read or add reviews


This module has been retired and is no longer available on MetEd.


This module discusses the basics of rip current formation and detection as well as the partnerships between the National Weather Service, National Sea Grant College Program, and the United States Lifesaving Association as they relate to rip current safety. This is one of three modules on forecasting rip currents.