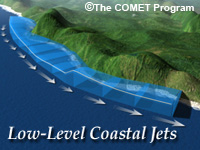 Languages: English
Publish Date: 2004-08-16
Skill Level:

1

Completion Time: 1.50 - 2.00 h
Includes Audio: yes
Required Plugins: Flash
Overall Rating:

(105 ratings)

Read or add reviews

Take the quiz?

Share this resource:
Low-level coastal jets occur along many coastlines. Winds may exceed 35 knots and lead to high waves and significant low-level vertical wind shear. Thus, low-level coastal jets present a hazard to both marine and aviation operations in the coastal zone. This core module describes the features of coastal jets and explores the conditions under which they form. Like other foundation modules in the Mesoscale Primer, this module starts with a forecast scenario and concludes with a concise summary and a final exam. By the end of this module, you should have sufficient background to diagnose and forecast coastal jets around the world and to use this knowledge to understand the implications for operational decisions.