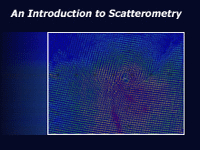 Languages: English
Publish Date: 2004-07-14
Skill Level:

3

Completion Time: .50 - .75 h
Includes Audio: yes
Required Plugins: Flash
Overall Rating:

(64 ratings)

Read or add reviews

Take the quiz?

Share this resource:
July 2014: The theory and technological description of ocean wind speed detection with scatterometers is still valid. The lesson however does not cover the products and operational implementation of the current generation scatterometers including Metop ASCAT, Oceasat OSCAT, and HY-2 SCAT.