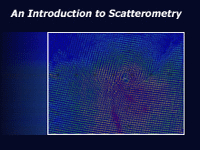 Languages: English
Publish Date: 2004-07-14
Skill Level:

3

Completion Time: .50 - .75 h
Includes Audio: yes
Required Plugins: Flash
Overall Rating:

(66 ratings)

Read or add reviews

Take the quiz?

Share this resource:
This Webcast features Dr. Michael Freilich (Oregon State University, principal investigator on the QuikSCAT project for NSF) introducing and discussing the fundamentals of scatterometry and how they apply to the SeaWinds instrument on QuikSCAT. Dr. Freilich also describes how the model function is used to derive wind speed and direction from multiple collocated measurements.